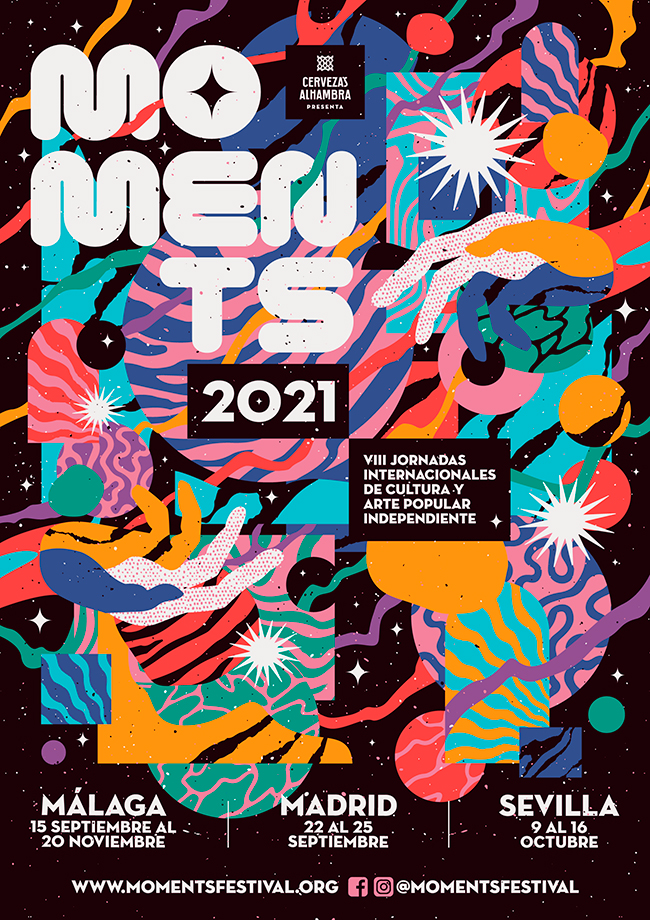 More than 150 activities spread between Malaga, Seville and Madrid, transform the 8th edition of Moments into a national festival.
Moments Festival reaches its eighth edition and does so in top form, taking a small somersault from the capital of the Costa del Sol to expand its borders, after seven unforgettable editions in the city of Malaga, to Madrid and Seville.
Between the 15th of September and the 18th of November, we will be able to attend more than 150 activities programmed for more than 3 months, including documentaries, workshops, world premieres of exhibitions, as well as the moments awards and the different meetings and presentations, which will take place in the most representative cultural spaces in Malaga, Seville and Madrid.
More than 50 artists from different countries and parts of Spain will delight us with their knowledge, in conferences, workshops and exhibitions.
Sem Rubio. Photographing Mark Gonzalez
From 30 – 09 – 2021 to 28 – 10 – 2021
Mark Gonzales (aka The Gonz), named the "most influential skateboarder of all time" by Transworld Skateboarding in 2011, is one of the most recognized names in Skateboarding and art. Gonzales has always dared to change the rules of the game (whether through his board, his brush or his pen) with a quirky, rebellious and innocent vision that has underpinned his legend.
Sem Rubio, cuya trayectoria empieza en 2001 ligada a la revista europea Kingpin Skateboarding Magazine (Londres) y se amplía luego con sus trabajos en EEUU vinculados a la cultura del Skateboarding, ha fotografiado al artista durante los últimos diez años siendo, además, autor del reciente libro fotográfico, Mark Gonzales, publicado por Rizzoli New York en 2020.
UMA Landsleds "For the Human". Group exhibition
From 30 – 09 – 2021 to 28 – 10 – 2021
This exhibition aims to be an open window to Uma Landsleds, a skylight through which we will peek into the energy of this space, as well as the philosophy that mobilises its members. UMA is a house with no known specific address, which is home to a bizarre mix of art gallery, wine cellar and skate equipment. It is a totally sui generis space where you can create, skate, have a beer and, in short, share unique moments with kindred spirits.
Founded in 2020 by a group of art and skateboard culture enthusiasts, this is a skateboard company whose particularity is the empowerment of a creative way of thinking.
If you consider yourself a fan of skateboarding, pop culture and street art, don't miss the opportunity to get up close and personal with this earthly paradise. Even though the house lacks a specific address, you will find its doors wide open thanks to this exhibition.
These are the UMA artists participating in the group show "For The Human":
– Nathaniel Russell / Indianapolis, Indiana
– Kelly Pelka / Chicago, Illinois
– Richard Colman / New Town, Connecticut
– Mark Penxa / Detroit, Michigan
– Griffin McPartland / Oakland, California
– Misato Suzuki / Carlsbad, California via Aomori, Japan
– Andy Jenkins / San Pedro, California
– Jon Miner / Santa Rosa, California
– Cristina Daura / Barcelona, Spain